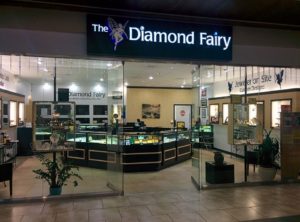 We invite you to pay us a visit and choose from a wide selection of Kaimana (Diamond) jewelry, Hawaiian jewelry, pendants, earrings, stones, pearls, jade, Rolex watches, and more.
Getting Started: Picking an Engagement Ring
We are excited to help you take that first step to the next step in your relationship. The Diamond Fairy knows that the process of uniting two lives into one can be a stressful one and we want to make sure that picking that perfect ring is not one of them. Here are some tips to help you get started.
In need of a custom piece or just cant find that perfect ring? We can help you design a piece custom fit for your preference. Our highly skilled jewelers use both delicate, tried and true methods like hand carved wax and state of the art technology, such as 3D CAD drawings, to design the jewelry of your dreams.
Here is your chance to stop settling and get exactly what you want within the budget you feel comfortable with. Contact us to get your jewelry designing process started.